The Net Cannon
Client Vodafone, Indygen
Category Integrated
Date 01-Oct-2013

Who says sampling can't be fun? We gave users a challenge: choose 4 friends and shoot them using a real-life cannon which you can control from a Facebook application. If you hit all of your friends, you all received an Indygen smartSim.
Challenge
As a newly prepaid telecom brand, Indygen wanted to find an alternative way of doing a sampling campaign and generate trial for the Indygen smartSim.
Strategy
Youngsters are constantly bombarded with various offers thus they became resistant to classical promotional messages.

Creative idea
With that in mind, our idea was to create a digital-BTL campaign using gamification and get them and their friends involved in the sampling process.
Creative execution
We created a Facebook App that users could access to control a real-life compressed air cannon.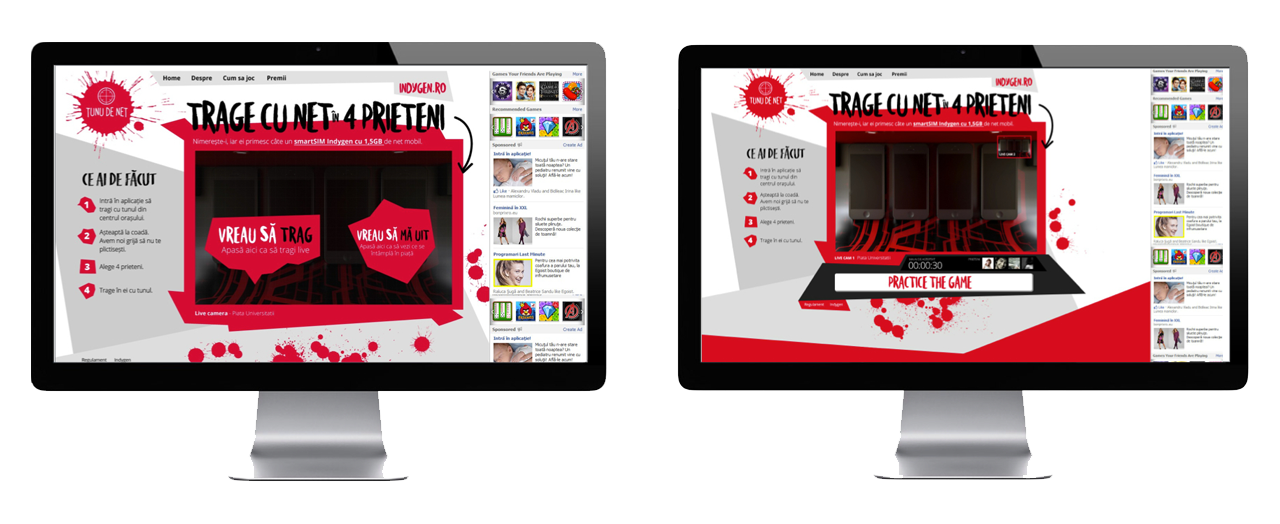 Through the Net Cannon App, the user chose 4 friends from their Facebook list to shoot. Their profile pictures were displayed on 4 big TV screens inside a 24 square meter box.
If he shot all of them with the cannon, he and his friends received an Indygen smartSim. In order to give them an extra incentive to use the smartSim, we offered the users who activated the card a chance to win the big prize: a 2 weeks clubbing trip in Europe.
The cannon box travelled around 5 big cities in Romania (Bucharest, Brasov, Iasi, Cluj and Timisoara) and also had the role of an unconventional outdoor. We can tell it was a great success as we sampled more than twice the number of planned Indygen sim cards.